Washington Youth Leadership Seminar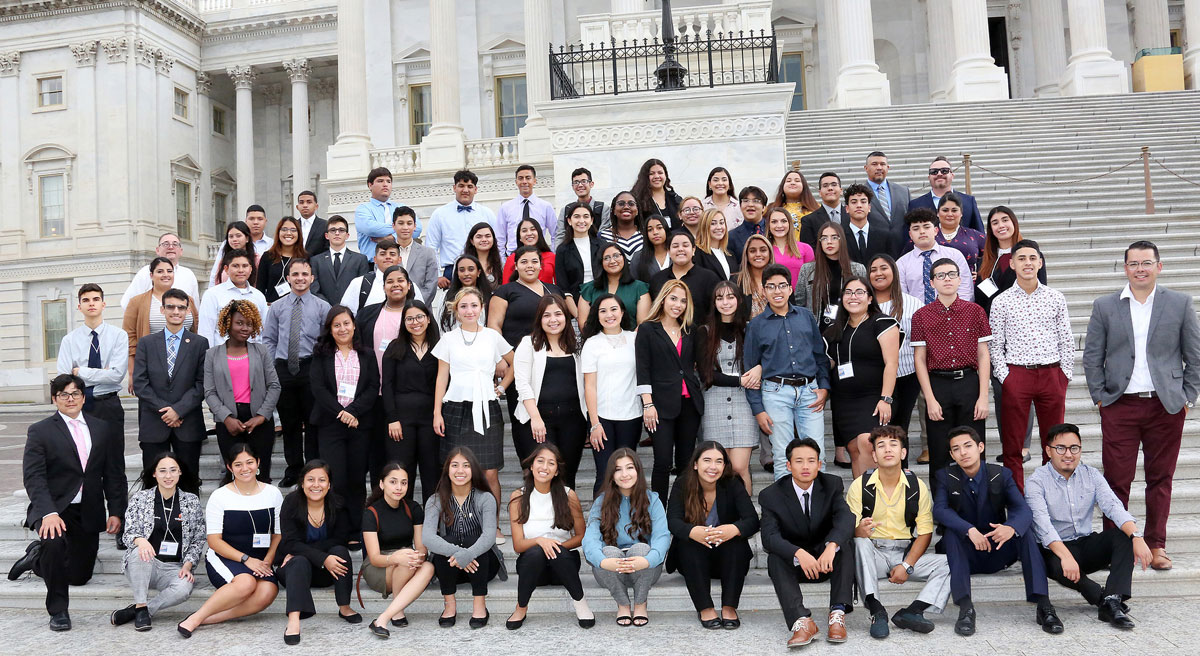 The LNESC Washington Youth Leadership Seminar is an annual leadership development program that brings together 50+ aspiring high school Latino leaders from across the United States and Puerto Rico to Washington, DC for a three-day virtual seminar. Activities focus on leadership development, civic engagement, educational development, college access, career exploration, and team building exercises.
Throughout the seminar, participants learn about issues that affect their communities. The program provides participants the opportunity to virtually meet with members of the presidential administration, Congressional leaders, Corporate America representatives, and public and private institution representatives. Participants are challenged to graduate from high school and enroll in a postsecondary educational program.
Program Design
Participants attend a series of workshops to prepare them to be leaders within their communities. Workshops focus on the basics of advocacy, policy development, career exploration, and professional development. Traditionally, this event is hosted in Washington, DC, and includes advocacy visits on Capitol Hill. As a result of the pandemic, the event is held virtually with an Education Town Hall that includes leaders in government and non-profit organizations. A virtual college tour, as well as virtual visits to national monuments, are included in the program agenda.
Participants will develop an understanding of leadership and enhance their leadership abilities as measured using a pre- and post- program survey. Participant progress is tracked through the National Student Clearinghouse to verify college retention and completion rates.
Program Impact
One hundred percent (100%) of students reported they would likely get involved in their local communities after attending WYLS.
One hundred percent (100%) of students surveyed stating they would share what they learned at the WYLS with peers and friends in their community.
Ninety-seven percent (97%) of students reported feeling more connected to the policy-making process following the workshops.
One hundred percent (100%) of participants agreed with the statement: "I gained valuable skills by participating in the Washington Youth Leadership Seminar."
Student Voices
"My experience at WYLS was one that cannot be topped. The chaperons and speakers were both intelligent and encouraging of inquiry. For those who want to improve their public speaking, learn how to be an effective leader, and explore the public policy process in the real world (must) definitely apply to be a part of this seminar."
 - 2019 WYLS Participant
"This was a highly informative and enriching program on so many levels, being able to have unique interactions with other students across the US was a lot of fun and I'm excited to use what I learned in college."
  - 2019 WYLS Participant
"Thank you all for making this a truly wonderful experience! Thank you for not only organizing this event, but for empowering youth all over the country to lead, advocate, and educate. I cannot express my gratitude enough!! Virtual hugs to all of you :)"
  - 2020 WYLS Participant
"This was a great and unique experience that was coordinated very well for being a virtual program. I want to thank everyone that made this possible and to give me the opportunity to be part of this experience."
  - 2020 WYLS Participant
"My highlight was all the amazing, wonderful, eloquent, intelligent youth leaders that I now have the pleasure to call my friends and colleagues!!!"
  - 2020 WYLS Participant