Upward Bound

Upward Bound is a FREE, federally funded TRiO program providing fundamental support to participants in their preparation for college entrance. It provides opportunities for students to succeed in their precollege performance and ultimately in their higher education pursuits. The goal of Upward Bound is to increase the rate at which participants' complete secondary education and enroll in and graduate from institutions of postsecondary education.
Upward Bound projects offer tutoring, advisement, mentoring, and cultural enrichment and supplemental instruction. The program is specially designed for high school students from low-income and or first-generation families (neither parent holds a bachelor's degree) and other disconnected youth.
Program Design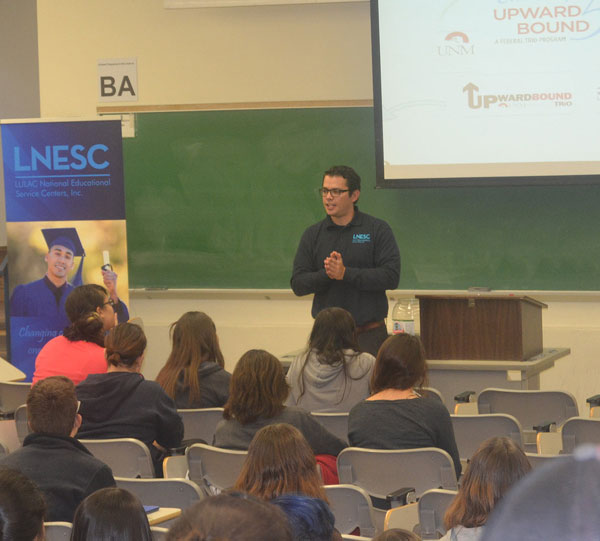 Upward Bound is a year-round college preparation and retention program with two components: academic year and summer. During the academic year participants attend academic advising and after school tutoring. Some programs provide Saturday sessions which teach various life-skills, test taking and college preparatory workshops, and cultural field trips.
During the summer, participants attend an intensive six-week academic enrichment program. Students focus on core subjects including math, science, English and a foreign language. The highlights of the summer component are the field trips to college campus and cultural activities.
Program Impact
According to data from the Department of Education, nationally 91% of Upward Bound participants who graduate from high school enroll in a post-secondary degree program the year of their graduation. This is compared to 41% of students not enrolled in an Upward Bound program. Staying in Upward Bound for longer periods is associated with better student outcomes.
At the LNESC in Albuquerque, NM, the Highland High School Upward Bound program enrolled 90% of its seniors into college; a rate much higher than the state average. Program participants live an area with a high propensity for violent crime and a number of other civil and social issues.
Furthermore, at the LNESC in Miami, FL, 89% of Upward Bound participants passed both the English and math state-based comprehensive standardized tests, far exceeding their goal of 60% improvement.
Student Voices
"LNESC Upward Bound has helped me maintain high grades and different opportunities to learn. They've also taught me different life skills. I learned how to write a resume and cover letter for the first time. The Saturday Academies cover issues facing the world or just everyday issues we face and how to cope."
 − Andres, Valley High School
LNESC's Upward Bound Program has made me want to be the best student I can be. Set an example. Try not to follow anybody, and try to be a leader more than a follower and a representative of my school.
 − Juan D.
Locations
Albuquerque, NM (3),  Bayamon, PR,  Colorado Springs, CO,  Corpus Christi, TX,  Dallas, TX (2), Kansas City, MO,  Miami, FL,  Oxnard, CA,  Philadelphia, PA,  San Antonio, TX,  San Diego, CA,  Vancouver, WA