Macias Keynote Speaker at MCC Veterans Day Activities
KC Hispanic News
Nov 10, 2022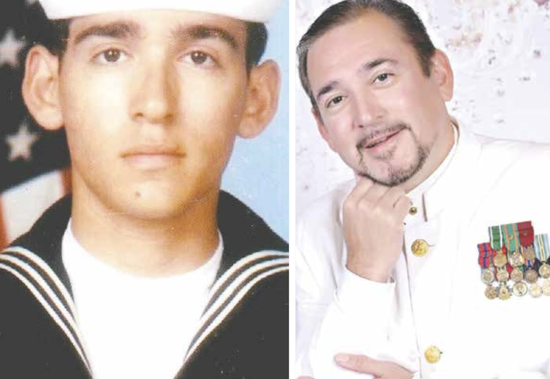 Growing up, if you had told Dr. Mike Macias that he would end up not only enjoying school, but leading a classroom as an instructor, he likely would have told you that you're crazy. 
"I was really disenchanted with school," recalled Macias, who grew up
in Kansas City Kansas Argentine neighborhood. "I really thought that if I joined the Navy, I could play with guns and do fun things and not have to go to school." 
The Navy veteran, who served from 1986 to 2007, talked about his experiences in the military as the keynote speaker for Veterans Day activities at Metropolitan Community College on just a day before Veterans Day. 
When he enlisted all those years ago, the young Macias discovered to his horror that in addition to taking cold showers and eating food loaded with so many preservatives that they wouldn't expire for half a century, he would need to take more than two years of classes in order to pass the Navy's advanced electronics program 
After completing those courses and working as an electrician on a ship for several months, Macias said his supervisors expressed awe at his talents. 
"My supervisor said, 'You're one of the best technicians we've ever had,' so he called my detailer in Washington, D.C., and he told the detailer that he wanted me to go to instruction duty," Macias recalled. "I was only 21 years old at the time, so I was one of the youngest instructors in the Navy." 
While other young men his age were still in the middle of their college career, Macias was already teaching his fellow servicemen and women the tricks of his trade. It's a path that fewer young people are following, he said. 
"The numbers are really dismal. They are dropping drastically," Macias said of the number of young people enlisting in the military. "Only 10 out of 100 people meet the qualifications,  and only one out of those 10 may be interested. It used to be you could get a waiver for lack of education credentials, but not anymore. It's stringent." 
Macias said that one thing he wishes to make clear to those people considering enlisting in the military is that the benefits are many.
"I want them to understand that they are a small, honored group, and it's getting smaller every decade," Macias said. "So, they should be proud of their sacrifices, but they really need to take advantage of the educational benefits
the government gives them. ... As they transition from military to civilian life,
they should continue in education, and there are a lot of different resources available for veterans."
As an example, Macias said he was able to go back to school and receive his doctoral degree from the University of Southern California, where he received a 50-percent discount on his tuition due to his veteran status.
Macias said that as Veterans Day approaches, the holiday is intended to honor all veterans, no matter the length of their service.
"Anyone who has served for 90 days is considered a veteran, according to the have come to realize the importance of Veterans Day overall. We celebrate some of the veterans who are alive, but it's really to honor those veterans who didn't make it," he said, acknowledging that the day can be tough for some families. "It's nice to see a lot of people take a day to recognize the veterans of all different ages and eras."
Macias said he's been looking forward to addressing an audience of student veterans at MCC, but that he also hopes everyone takes a moment to recognize the sacrifices that all veterans have made for their country.
"This isn't about me," he said. "It's about all of these veterans who are a small percentage of our American society."